PDG has published a new case study focused on building the next generation of corporate leaders. Failure rate for new managers can be over 50% in the first year. Clearly, getting managers off to a good start is critical to their future effectiveness. Ineffective onboarding can do more harm than good, and do little more than drive up training costs. So what is the best way to prepare new managers for their jobs?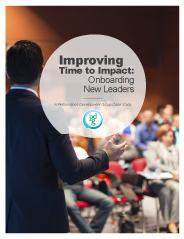 Here's a preview of the case study:
Improving Time to Impact: Onboarding New Leaders
Hiring top talent is only half the battle. Getting those people prepared for the challenges ahead is perhaps the larger challenge. In the highly competitive world of finance, "good enough" is never good enough. How do you get new leaders ready to make an impact?
This was the challenge facing a major Financial Services Institution, struggling to prepare new Retail Banking managers for success. Despite having a comprehensive curriculum, the organization was not getting where it needed to be. New managers attended extensive training with a blended approach of self-paced web training and instructor-led classes. Yet, at completion, new managers were not prepared to do their jobs; they had difficulty completing basic procedures. The learning team admitted that individuals might "complete" training but not retain the information. Corporate training was treated as a "check-the-box" exercise, and "real" training happened at branch.
Clearly, something needed to be done. The branches were struggling with client satisfaction issues, talent retention, and lagging sales. The cost of training was escalating, the time to efficiency was increasing, and consistency across the branches was in jeopardy. As a result, the business was losing respect for training and was more reluctant to participate in the corporate program. What could be done to bring this new manager program back on track?
Read more about how this financial services institution was able to prepare their new managers for success in the case study, Improving Time to Impact: Onboarding New Leaders.