I have a sister in-law and brother in-law who create the Baby Mouse and Squish graphic novels. They not only hooked me on graphic novels, but their graphic novels were the start of my daughter's love of reading. So, when I started to see a number of graphic novels being developed for our corporate clients, I took a look, and I was amazed!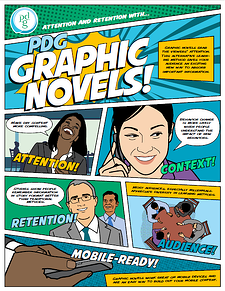 I first viewed a graphic novel about 'Code of Conduct' (yes, Code of Conduct!) that grabbed my attention with the bright colors and interesting graphics as well as the story they told. I wanted to learn more so I asked the PDG team of Instructional Designers why graphic novels work well in the corporate setting.
Jeff Dunn, an Instructional Designer at PDG observes, "Graphic novels offer a very non-threatening way to learn. They are short, easy-to-read, but more importantly do a great job showing character interaction naturally without having to slog through what can sometimes be a cumbersome experience. It also adds a built-in hook, in that each book tends to end with a teaser/cliffhanger for the following books, which help capture interest. Just like with good TV programs, characters drive interest and with graphic novels, they are so character-centered, they are just fun to follow. There's a reason the comic book business boomed in the Silver Age (starting in the 60's and 70's) when you could see images and situations that you could easily relate to."
Stacie Comolli, Director of Solution Architecture, agrees that graphic novels are a fun way to learn. "Graphic novels have been around for a very long time. Their eye-catching visuals and short, succinct, focused writing draws readers in quickly and keeps them engaged from end-to-end. While traditionally considered entertainment, we've paired this media with solid instructional design and storytelling techniques. Using authentic characters we show learners what to do… and more importantly what NOT to do. This media offers an innovative way to connect with our audience on a different level, getting their attention and therefore impacting performance."
Studies have found that graphic novel readers retain more information than traditional textbook users. Jeremy Short a professor from the University of Oklahoma notes, "Maybe just a simple graphic explanation ... is the way to go, and maybe where people should be putting their resources, if they want their employees to recall things better, their students to recall things better."
David Alexander Robertson, who writes educational graphic novels said that, "Graphic novels, because of their visual nature, help readers engage with the subject more effectively. They provide breadth and depth to the words, and context to the important historical items. In using the graphic novel, readers become more immersed in the world. It becomes more real to them. They can smell, touch, taste, hear, and, of course, see it. Readers take those still images and animate them, bring them to life, get them excited."
So, What Are Graphic Novels?
Graphic novels are books that are written and illustrated in the style of a comic book. Your audience learns a story told through the combination of sequential visual art and text. Graphic novels work well as on ongoing series, building a repeat audience. With graphic novels, studies indicate that the use of storytelling aids in increased retention. Graphic novels are widely regarded as mainstream literature and can be a valuable resource for supporting learning.
A Unique Learning Method
Graphic novels present typical situations that employees experience in their daily professional life. Using creative storytelling and compelling art, graphic novels create an engaging learning method that people actually look forward to. Graphic novels are a great way to convey dry content, or gain attention to frequently updated material. And the bold graphics translate exceptionally well to iPads and other mobile devices. This alternative learning method gives your audience an exciting new way to absorb important information.
I encourage you to go out to your library, bookstore, or favorite online store to find some graphic novels. Read them for fun or even refresh your calculus or life science skills. I certainly enjoy reading graphic novels and I know the designers at PDG have fun creating them too.
Here's some additional information about graphic novels:

Amanda Cushman Holm is the
Sales and Marketing Specialist at
Performance Development Group