Welcome to the next stop on the blog tour!
I've enjoyed reading Karl Kapp's books so much over the years and I'm doubly pleased to be his co-author on the newest, The Gamification of Learning and Instruction Fieldbook. I first started building simulations and learning games way, way back in 1985. Back then, I was very inspired by text adventure games like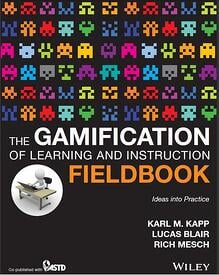 Zork, which created a very compelling and immersive world using only text. I remember thinking, if we can become so involved in fictional worlds like this, what would happen if we became immersed in real-life scenarios the same way? It would be a lot like doing it for real, except we'd be in a nice safe environment where we could try new behaviors and there would be little penalty for failing.
Of course, back then you really couldn't talk to businesses about games. Games were something serious business people simply did not engage in. So we called them interactive case studies and simulations and immersive experiences. But games they were and games they still are, except now we're not afraid to call them that.
I'm proud to be part of the Fieldbook because I think it addresses a real need in the learning industry. "Gamification" has become a (rather awkward) buzzword, and many people don't really understand what it means. Given that one of the strengths of learning games is that they help transform cognitive knowledge to behavioral skills, it makes sense to create a book that focuses on how to actually do this stuff. Karl and Lucas and I set out to create a "how to" book, a roadmap that shows you how to take all of these great ideas and actually create great games and simulations. The book is full of ideas, yes, but also full of tools, processes, guidelines, tips, and tricks.
With The Fieldbook, we created the kind of book we wish we'd had when we started out creating learning games and simulations. We hope it not only inspires you but gives you the tools you need to create awesome learning games. If you'd like a copy of your own, you can get one right here. And if you'd like to continue the conversation, please join me at the Training 2014 Conference in San Diego, CA on February 3, 2014 for my session, The Secrets of Simulation Design. See you there!
For additional thoughts about gaming from this blog, try the following:
How Games Improve Performance, Part 1: An Introduction
How Games Improve Performance, Part 2: Why Are Games Effective?
Using Storytelling in Learning, Part 1: Yelling at the Movie Screen
Using Storytelling in Learning, Part 2: 7 Tips for Effective Storytelling
Using Storytelling in Learning, Part 3: The Predictable Unexpected
Using Storytelling in Learning, Part 4: Keeping it Real
Using Storytelling in Learning, Part 5: The Goal-Based Scenario
Rich Mesch is Senior Director, Customer Engagement at Performance Development Group