by Reni Gorman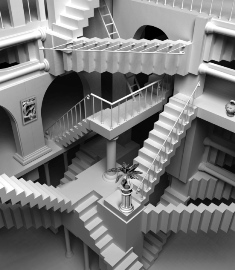 We all intuitively think in a linear fashion because the brain can only really focus on one thing at a time, then another, and another. Therefore, even when we think we are jumping around in our thoughts, we are still thinking one thing after another. Perhaps as a result of this, many of us also write in a linear fashion. Therefore, it is not surprising that many instructional designers create course content linearly; it is difficult to think of a course or a story any other way.. However, when people use newer technologies, they tend to be very non-linear, be it surfing the web, using mobile devices or (especially) performance support systems. You never know where learners are coming from when they land on your web page—or your module. You also don't know how much they already know. So, how do you to anticipate all of this when creating content, and, ideally, create content that addresses multiple learner types who arrive there from any place without any pre-existing knowledge?
When the web first went commercial (.com), I teamed up online magazine web producers with instructional designers and together they were able to create very interactive, instructionally sound, non-linear content. However, that was in the 90s, the stone age of interactive technology. In today's world, we need to run as lean as we can. So let me share some of the techniques that worked for me when teaching how to design non-linear content; which, remember, is totally counterintuitive to what many instructional designers have been doing for years.
Ask your instructional designers to create a storyboard with modules that are truly context independent (in other words, that can be accessed from any path with any existing knowledge and will still make sense). Tell them to try to create the smallest possible modules; think online magazine publishing: one article is usually one page. Once they come back with their storyboards, pull out a module from the middle and see if it makes sense out of context. Does it indicate where you can go to "backtrack" and catch up? What would happen if a learner would go into just this piece of content without the benefit of the previous content? Then, think about modifying the content in a way that makes it easy for anyone with links to go backwards in the content for explanation (if needed), and links to get more deep/advanced. This is commonly referred to as a layered design—once again, very non-linear. You will not know who the learner is when you design; she may be the target audience or a manager of the target audience or an assistant. No matter who the learner is, the content should make sense, and guide the learner to other content where they can catch up or explore further.
You also need to consider "neutralizing the language" as regards your audience. Don't use terms like: "As the manager, you will…" In a good performance support system, it should not matter who the person is, the content should guide you and focus on the task you are trying to perform (or the information you are trying to learn) regardless of who you are I like to refer to this as designing object oriented content. Yes, learning objects (remember those?). It may be an old term but it is still relevant-- in fact more relevant than ever, since mobile devices require smaller and smaller chunks of context-independent content.
Another tip is to watch for and remove is verbiage like "In a previous module, you learned..." When your audience is accessing content non-linearly, you don't know what they have previously learned. Consider using phrases like "For more information" or "To learn more."
We're all obsessed with interactivity, but interactivity is not nearly as relevant in performance support. If I need help on the job, a good checklist is worth much more than an interactive game, because a good checklist is "just in time." In a good mobile performance support system we no longer need an intro with course objectives, but we do need to introduce the material. How do we do it from a performance support perspective? Learning objectives do not really teach anything—they tell what you will learn but you don't learn from them. In performance support there is not much room for them—each learning object/page should teach you something. Take the user's perspective and focus on the WIIFM: What's In It For Me? For example: "You should use this tool, Mr. Investment Banker, because hedge funds have changed over the last year and the new information will impact your business.
Finally, instructional designers should consider all the ways this content could be used:
in a linear e-learning course (don't worry, linear hasn't gone away completely)
as a quick tip list in a performance support environment
In an audio format, perhaps as a list of "what to say" to the customer. It may be better in audio to hear voice inflection; for example, a sales representative can listen to it with a hands-free device on the way to a client meeting.
Many of us are used to designing linear content, and linear design is a hard habit to break.. But it's useful to step back and think about the possibilities. Invite others to brainstorm, share designs and content so you are not just looking at your own, as that is harder to critique, and guide each other to realizations through the art of inquiry.
Creating valuable, snippets of information that contain one concise piece of transferrable knowledge will make content so much more effective in the business world where people do not always have time for extensive classroom training, or even sitting through a long online learning course. They want to go right to the information that they need and that may mean jumping around and reviewing the content out of sequence. Creating snippets of content is also the key to the age old dream all content creators have of authoring once and reusing in many ways. Happy authoring!