Learning Demand Planning and Flexible Resource Management
This is the second in a series of conversations with PDG Managing Partner David Manning where he shares his perspectives on emerging top trends in the business of learning. In this installment, David shares his observations on the use of demand planning and flexible resourcing in learning organizations.
Q: One of the trends you identified was Learning Demand Planning. What can you tell us about that?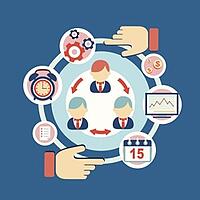 David Manning: Like most business processes, learning organizations can benefit from demand planning. Organizations are struggling with the unpredictability of the demands on their learning teams. They find it difficult to staff to meet those changing needs. But annual learning demand can be mapped, and many organizations are doing just that.
Q: What drives the need for Learning Demand Planning?
DM: As organizations get larger they become less flexible and less prepared and equipped to deal rapidly with changes in market demand. They also become less able to deal with changes with external or internal disruptive forces. As they grow, companies need to have greater flexibility not less to be able to scale rapidly up or down pieces of their businesses to compete in the marketplace. More companies will be using Flexible Resource Management as a way to meet their market demand.
Q: So how is Learning Demand Planning put in place?
DM: Sometimes it feels like Learning Demand is completely unpredictable, but if you analyze it, you'll see predictable trends start to emerge. You start by identifying predictable patterns to help understand demand trends—for example, seasonal demand, planned initiatives, new product launches. Then you look at Demand Smoothing, the process of moving tasks from the high demand period to times of lower demand. That allows you to identify Sustainable Demand Levels—the lowest level of demand that you will experience consistently. You want to staff your organization to meet that Sustainable Demand—it allows you to meet your day-to-day demand without spending money on resources that are underutilized or unutilized.
Q: But what happens when demand spikes and goes above the sustainable level?
DM: That's where the concept of Flexible Resourcing comes in. By building strategic partnerships outside the organization, learning teams can add resources during high demand periods, then draw them down when the demand is met. This strategy actually allows organizations to get more done at a lower cost, since they never carry resources they don't need, and they always have the right resources on the right assignments.
Q: Why are the concepts of Learning Demand Planning and Flexible Resourcing so important in today's world?
DM: The past several years have been a time of change for many businesses. In today's business climate of tight budgets, layoffs, and mergers, learning groups have a limited head count but unlimited demand for their services. By prioritizing their demand and optimizing the resources they have, learning groups can develop a strategy for managing that demand over time.
When businesses use flexible resources, they can move and shift resources as needed. The company can easily transfer staff from low to high priority projects to make sure the right work is getting done. Demand Planning means they have the most accurate forecast in place, the right work prioritization, and that the work is aligned back to the business strategy. With a flexible resourcing strategy in place, the organization can rapidly shift resources to make the greatest impact when priorities change. The flexible resource model allows organizations to add resources only when they need them and with tight budgets that is a big benefit.
For more about performance improvement read the following resources:

David Manning is the Founder and Managing Partner of Performance Development Group (PDG). David has over 20 years in the management consulting and learning outsourcing space, and has successfully led the growth of global organizations and start-up ventures. David formed PDG after serving as the Chief Operating Officer for a global training consultancy.