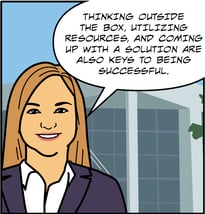 Is it difficult to get new behaviors from an experienced sales team? The tenured sales force responsible for Genzyme's Multiple Sclerosis product (AUBAGIO®) had seen it all. The Genzyme learning team knew they needed to find an engaging, time-effective way of spreading best practices across the sales team to drive continued performance. Learn how Genzyme used both cutting-edge and well established methods to create a blended approach that feels fresh and new.
Using best practices from high performers with the greatest market share, Genzyme and their partner PDG created three methods for delivery of best practice: podcasts, graphic novels, and articles, all of which shared a similar look and feel.
Learning Objectives:
Determine how to motivate and grow a mature and high-performing sales force

Define the steps necessary to evaluate and benchmark best practices to drive up performance of all team members
Identify how to create a vibrant blended approach to gain and hold sales force attention.
Find out more at the LTEN Annual Conference at, Tomorrow's Sales Training: Using a Multi-Modal Approach for a Tenured Sales Force, on June 2. Visit PDG staff in the LTEN exhibit hall at booth 139.
Our Presenters

David Barker
Dave Barker works as a Training Manager with Genzyme in Cambridge, MA. His over 15 years of Sales and Training experience includes work on three continents, in over a half-a-dozen countries, and in a variety of industries, working at all levels of organizations. He has a strong background in developing training strategy, curriculum/e-learning design and delivery.

Marcus Hswe

Marcus Hswe is the Associate Vice President, Business Development, Sales as well as a Consultant with Performance Development Group (PDG) of Malvern, PA. He has over 10 years of experience in design, development, and management of enterprise training initiatives. With a concentration in the life sciences arena, Marcus works directly with senior executives to determine effective and efficient solutions to their business issues.
Find more information on sales training at PDG Resources.