Discover how PDG partnered with Biogen Idec to create an advanced sales training solution. Mark Lockett, Director of Commercial Training on the Biogen Idec Commercial Training Team and Marcus Hswe, a Consultant at Performance Development Group (PDG), are presenting the topic The Next Generation: Creating an Advanced Training Curriculum at the Society for Pharmaceutical and Biotech Trainers (SPBT) Annual Conference in Grapevine Texas on June 10.
Participants will learn to: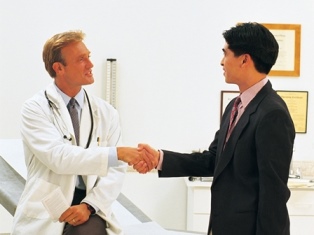 Promote the effectiveness and impact of an advanced training curriculum design and development model


Identify the drivers for enabling a successful advanced training curriculum


Identify how a patient-centric selling model can build more effective relationships with health care providers
Biogen Idec has successfully helped Multiple Sclerosis (MS) patients manage their disease for years. To capitalize on that success, the organization benchmarked its best sales reps to evaluate how optimal behaviors can be adopted by those who work directly with health care providers.
The result was the Advanced Training Curriculum to meet the following challenges for rep training:
Make it a WOW factor



Get away from "me too" and make it unique



Must be motivational and engaging



Centers on retaining top talent



Supplements current rewards system
This curriculum leveraged the Patient-Centric Model, a relationship-based sales approach that focuses the conversation on a health care provider's patients and their individual cases. With this Patient-Centric approach, Biogen Idec trains the sales team on specific actions to build and maintain those relationships to drive revenue and market share. More information on the presentation The Next Generation: Creating an Advanced Training Curriculum and how to register can be found on the SPBT Annual Conference website.
Mark Lockett
Mark Lockett currently serves as a Director of Commercial Training on the Biogen Idec US Commercial Training Team, focused on leading the development and implementation of an Advanced Training curriculum. Mark has 25 years of experience in the pharmaceutical, device and biotech space, and has held leadership roles in Sales Management, Marketing and Training.
Marcus Hswe
Marcus Hswe is a Consultant with Performance Development Group of Malvern, PA. He has over 10 years of experience in enterprise learning, especially in the design, development, and management of training initiatives.