by Rich Mesch
I remember years ago, sitting in a presentation by
Nicholas Negroponte
, where he insisted that in the not-too-distant future, we would all be wearing our computers. He was envisioning complex eyepieces and finger sensors with wires running up your sleeves. He had the right idea but the wrong form factor; he didn't foresee that we'd be carrying our computers in our pockets and calling them "phones."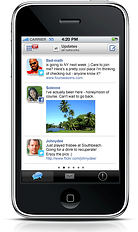 Mobile learning
is on everybody's to-do list, and why not? Who wouldn't want learning that could follow an employee no matter where she went? But like so many emerging technologies, we need to look past the gloss of the possible to the reality of the useful. Today's smart phones have nearly as many capabilities as our desktop computers, but that doesn't mean we use them the same way. And when we try to deliver learning to a mobile device the same way we deliver it to a desktop computer, we miss the point of having a mobile device to begin with.
When it became clear mobile learning was a reality, the first thing many organizations did was look at "re-chunking" their current content. If something made sense as a 30-minute e-learning program, they reasoned, it could be broken down cleanly into, say, 5 bite-sized e-learning programs for a mobile device. There's a bit of tortured logic going on there; if something is brief and bite-sized, people will be happy to use it on their phones. And while there's some truth to that, it misses the point. Mobile applications aren't just about brevity, they're about applicability. People "learn" from their mobile devices all the time, they just don't call it training. Whether they're pulling sports scores, GPS-ing the next leg of their trip, or sending some quick texts, people use their mobile devices to gain knowledge. So as learning professionals, why would we think they should get little e-learning courses? Why not leverage the methods they're already using?
The re-chunking people weren't really wrong, they just sort of missed the point. Rather than creating mini-courses for mobile devices, we need to design learning for each venue in a method that fits it best. People tend to use mobile devices:
When they need information right away
In down-time, such as between appointments
To retrieve information that may not be at their fingertips, or
To get information that may be so current or time-sensitive, there's no other way to get it other than right now
So when we look at how our audience performs, we need to ask not what can we
teach
people on a mobile device, but rather how can we use mobile devices to provide information to help them
perform
better.
In the next few weeks, we'll take a look at different applications of
mobile learning
, both the good and the bad, so we can start thinking about mobile strategies for our organizations. Hope you'll come along for the ride!